The experience of a fire occurring in a commercial building is an unsettling one, especially when it occurs in a large building.
There are so many things to worry about when it comes to the safety of the workers, among which is one of the most important. As a result of losing a commercial property, the realization of its condition can be overwhelming and sobering when it is left behind.
AquaTex Water Damage Restoration has years of experience dealing with all of these details, so we can help you through the entire process of restoring commercial fire damage with the least amount of stress and aggravation as possible. You can count on our team to quickly assess the damage to the structure, develop a plan to remedy any fire damage, smoke, or soot present, and lay out a timeline for your return to work once we have assessed the structure's condition.
We will be able to assist you in identifying any areas of concern with your building, assist you with inventorying and cleaning your contents, as well as work with your insurance company to determine a proper scope of loss that protects your interests. As a result of our experience, we can guide you in the right direction.
A Step-by-Step Guide to Fire Damage Restoration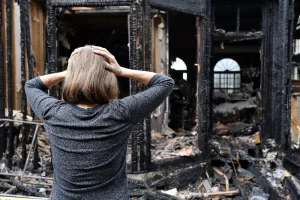 It is no secret that the experience of being in the midst of a fire can be terrifying and distressing. All of a sudden, everything is turned upside down in an instant. It is common for our possessions to be damaged or destroyed, but our way of life is often dramatically altered, sometimes for the better, and sometimes for the worse. There are times in life when you need to turn to someone who you can trust, someone who looks out for your interests when times such as these arise.
Call AquaTex Water Damage Restoration today if you want to get started on your path back to health. A full range of residential and commercial services are available to homeowners and businesses throughout the South, and we are here to help you. No matter if your home has been damaged by storms, flood, fire, or you're in need of fast mold remediation services, AquaTex is here to assist you.
There will be a detailed breakdown of all steps along the way, and everything will be undertaken with the ultimate goal in mind: restoring your home or business with the least amount of pain, aggravation, or worry possible. Make sure you get in touch with AquaTex as soon as possible!
1: Call AquaTex – (469) 914-4408
AquaTex will get you back on the road as soon as you call. The first steps in fire restoration will be taken by our team of restoration specialists once they are dispatched to your location. We are concerned about your health, safety, and comfort right now. A temporary shelter, clothing, and food will be provided to you in order to meet your basic needs. In the meantime, we will be boarding up any doors, windows, or openings on your property in order to secure your property. In the final step, we will coordinate our efforts with local first responders to ensure that they are able to complete their tasks and complete any investigations or paperwork before we begin our work.